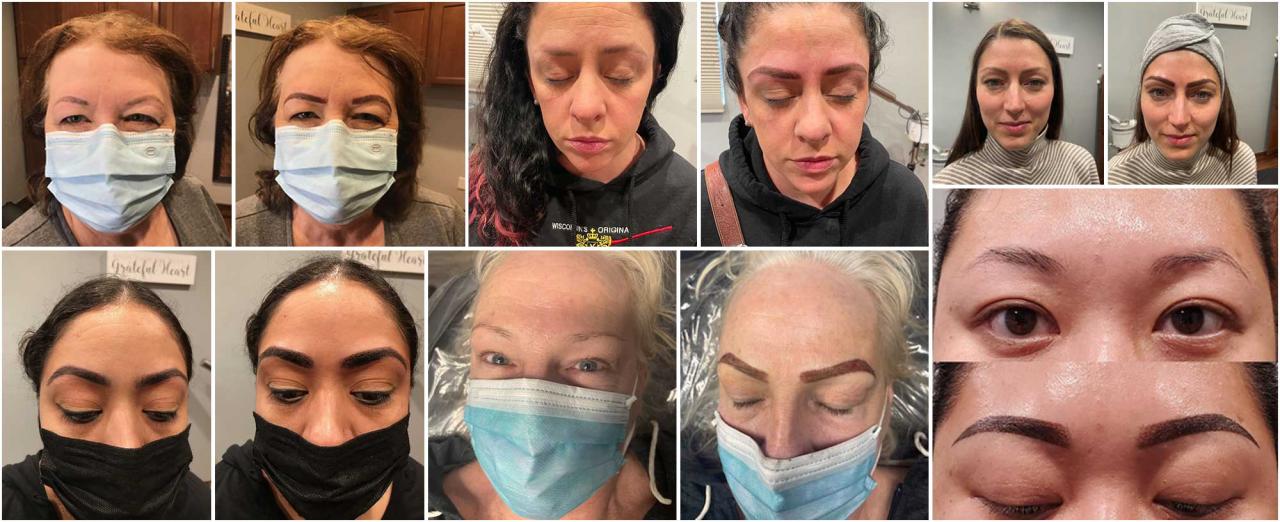 FAQ
What is Microshading?
A: Microshading is the semi-permanent makeup technique for sparse, light-colored or over-plucked brows. microshading fills in thin brows implementing special pigments into the surface layers of the skin in tiny dots that can be more or less saturated, depending on how dramatic you want the look to be.

Microblading gives the illusion of thicker natural brows, like you have more hairs than you actually do. It looks very natural, like you're not wearing makeup.

It doesn't wash off or smudge, and it lasts up to 3 years.

How Long Does the Microshading Treatment Take?
A: The treatment usually lasts between 2 and 3 hours. For most clients, it requires an additional touch up session 6-8 weeks later to add more pigment.

What Does the Microshading Process Look Like?
A: Discuss your expectations with your artist, and ask as many questions as you want about the procedure.

We will explain the process, and give you aftercare instructions.

We also give their opinion on the best shape and color for you. Take their advice into consideration, they know what colors work on which skin tones and how they'll look healed.Whatever color you decide it will be 25 to 30% lighter after it heal
In order to make the color more even and make your microshading eyebrows last as long as possible, you'll need to come back in for an additional session 6-8 weeks later, once your brows have healed.

The touch up looks a lot like the initial session, but much less work will be done. The artist will just fill in some spots that may have faded lighter.

How Long Will My Microshaded Eyebrows Last?
A: Being a semi-permanent eyebrow treatment, microshading can last from 1 to 3 years, with annual touch ups recommended for best results.
The first touch up is done 6-8 weeks after the initial treatment and it's mandatory for most clients.
The healing process sometimes leaves sparse patches where pigments didn't settle properly, and the touch up is a chance to perfect the results.
Further touch ups are up to you, they're not mandatory. However, if you want to keep your brows looking fresh, annual touch ups are recommended.
However, note that your aftercare routine and general lifestyle in combination with your skin type will affect how long microshading brows last. They'll fade sooner if they're exposed to sunlight, salt and pool water, and harsh skincare ingredients often.
You can book a touch up as soon as you notice that your pigment is fading. If you wait too long, you will perhaps need to go through the whole process again which is longer and more expensive.

Does the Microshading Process Hurt?
A: This is a difficult question to answer, mainly because the definition of pain varies from person to person.

People who wax or pluck their eyebrows regularly will not find the microshading procedure very painful, whereas someone who has never had their brows plucked might feel some level of discomfort.

The good thing is that the artist will use a safe topical numbing cream that they will apply to your eyebrows in order to ease the procedure as much as they can.
How Do I Prepare for the Treatment?
A:
There are a few things you should do in order to prepare for the treatment:
Don't go sunbathing or tanning for about 2 weeks. Tanned skin is more sensitive.
Stop using any retinol or Vitamin A products one month prior. These thin out the skin and make it bleed more.
Avoid alcohol, caffeine, ibuprofen, aspirin and fish oil supplements for at least 24 hours prior to your appointment.
Don't pluck or wax your eyebrows at least a week before the treatment.
Don't do any facials at least two weeks before the treatment.
If you take blood-thinning medication, consult your GP and see if it would be safe to discontinue the use for a few weeks.

Make sure you avoid the following activities so your brows heal properly and avoid infections:
Swimming
Sports or anything that will cause excessive sweating
Saunas, steam baths, hot baths, long showers or Jacuzzis
Too much sun exposure
Any skincare product not prescribed by your artist
Any kind of beauty treatments, especially chemical peels
Picking, peeling, or scratching the pigmented area
Sleeping on your face
MICROSHADING AFTERCARE
Once you're finished with your treatment, your skin will need some time to heal, during which you need to pay some special attention to it.

Here's everything you need to know about microshading aftercare:
Starting from day 2, wash the area as often as prescribed with sterile water. Your eyebrows are an open wound, which needs to be cleaned.
You will be taking aftercare ointment. Make sure to apply the ointment once a day or as you need.
Always use clean fingers or a cotton swab.
Never touch the treated area with your fingers unless they are completely clean. The same goes for q-tips, cotton swabs, and basically any surface that comes into contact with your brows.
Do not scratch, rub, pick or peel the healing skin.
Allow it to flake off on its own
Always apply a light coat of ointment on the area before a shower or bath, and continue with this until the treated area is completely healed.
No eye makeup until it's healed.
In the first 7 or so days after the treatment, you should avoid all makeup. No products apart from the prescribed aftercare balm should come in contact with your brows.
After that, you can start wearing makeup on the rest of your face, but avoid the brow area until it has healed.