We at Salon Mayfair have always practiced Threading using hands only.
Thread is never kept in mouth.
Threading Services
What is Threading?
Eyebrow threading is an ancient hair-removal technique, practiced for centuries in Asia and the Middle East. Threading is a hair removal technique that uses cotton thread. The thread is twisted and rolled along the surface of the skin and the hairs in the thread, which are then lifted quickly from the follicle. It is more precise than waxing and allows for better lines.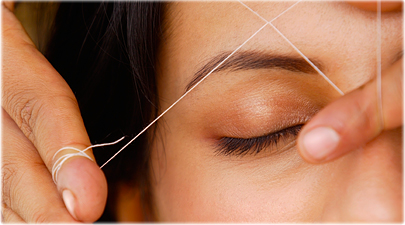 Pricing
Men

16

Eyebrows

15

Upper Lips, Chin or Neck

9+

Forehead

6+

Sideburns

15+

Full Face

40+

Toes or Knuckles

9+

Eyebrow Tinting

23
FAQ
Threading v/s Waxing?
A: Waxing: The top layers of skin are peeled. 4 people out of 5 are sensitive to Wax. Waxing is great for the body but threading is the best of the face. Waxing on face gives you lot of wrinkle because along with hair wax is pulling skin too. Threading is gentler on the skin and the best way to remove Facial Hair. Threading is a good choice, since it does not use harmful products. If you use medicated products on your skin for pimples and other blemishes, this will be a lot better for your skin if you are prone to breakouts.

What should I need to do when you shape eyebrow?
A: Client needs to hold their skin tight to make shape of eyebrow. While I do threading, client needs to put one hand on top of your eyelid and other hand on your forehead to stretch the skin.

How long will it take to get my Eyebrow Threading?
A: It will depend on your Eyebrow shape and the thickness of your hair. Approximately it takes 5-7 minutes.

How often I should get my Threading done?
A: It will depend on your hair growth but averagely in 4 to 6 weeks Even if your hair grows back, it will grow back finer if you get this done repeatedly. The hair follicle will become thinner. Unlike waxing, threading can be done as soon as you see the hair. There's no need to wait until the hair is a certain length.

Is Eyebrow Threading painful?
A: Threading is very less painful because it is faster and takes out several hairs at a time. The more often you get threading the less discomfort you will have because your skin will adapt to the process. Everyone's tolerance level is different. For most people it might feel like a little pinch. But it's less painful than tweezing.
If I have a party coming up, how long before the party should I thread my brows?
A:
Our recommendation is at least few days before your party. Especially if this is your first time for threading or it has been more than a month since you last threaded, there is a chance your skin will be red around your brow area. Generally the redness disappears within a couple of hours but it may last for 24 hours for some people. I have thin hair.

How do I grow my eyebrow naturally?
A: Some of our clients had great success with application of castor oil on the skin around the brow area where you want to grow your eyebrows. Coconut oil also works for most people. Vitamin B5 and biotins supplements also help your eyebrows grow thicker quickly.